This post is also available in: Français


The bimonthly LAFRANCE update was applied earlier in the week.
The additions pertain to the 1850-1861 period for baptisms and burials as well as the entirety of 1916 for Catholic marriages.
Update figures:
Catholic baptisms 1850-1861 : 10193 records added
Catholic burials 1850-1861 : 4306 records added
ALL Catholic marriages of 1916 : 14622 records added
In addition, the corrections sent by our users over the past 2 months have been applied.
About the LAFRANCE
The LAFRANCE, one of 15 tools available to GenealogyQuebec.com subscribers, is a detailed index with link to the original document of ALL Catholic marriages celebrated in Quebec between 1621 and 1916, ALL Catholic baptisms and burials celebrated in Quebec between 1621 and 1849 as well as ALL Protestant marriages celebrated in Quebec between 1760 and 1849. Baptisms and burials of the 1850-1861 period are added gradually through our bimonthly update.
Free obituaries
Over the past 2 months, more than 20 000 death notices have been added to our free obituary section. This section contains close to 2 million Canadian obituaries ranging from 1999 to this day. You can browse the collection free of charge at this address:
http://necrologie.genealogiequebec.com/home
Roots Tech 2017
From February 8 to February 11 2017, the Drouin Institute team was in Salt Lake City for Roots Tech 2017, the largest genealogy conference in North America. We would like to thank the numerous GenealogyQuebec.com and PRDH subscribers who visited our booth at the expo hall.
Roots Tech proved to be an amazing opportunity for us to meet many prominent genealogy firms and societies from around the world. Talks with some of our French cousins and neighbors from the South were particularly promising and inspiring.
We also had the pleasure of running into our Canadian countrymen from the Ontario Genealogical Society, who were kind enough to invite us to their annual conference. The conference will be held in Ottawa from June 16 to June 18 2017.
We wont miss it!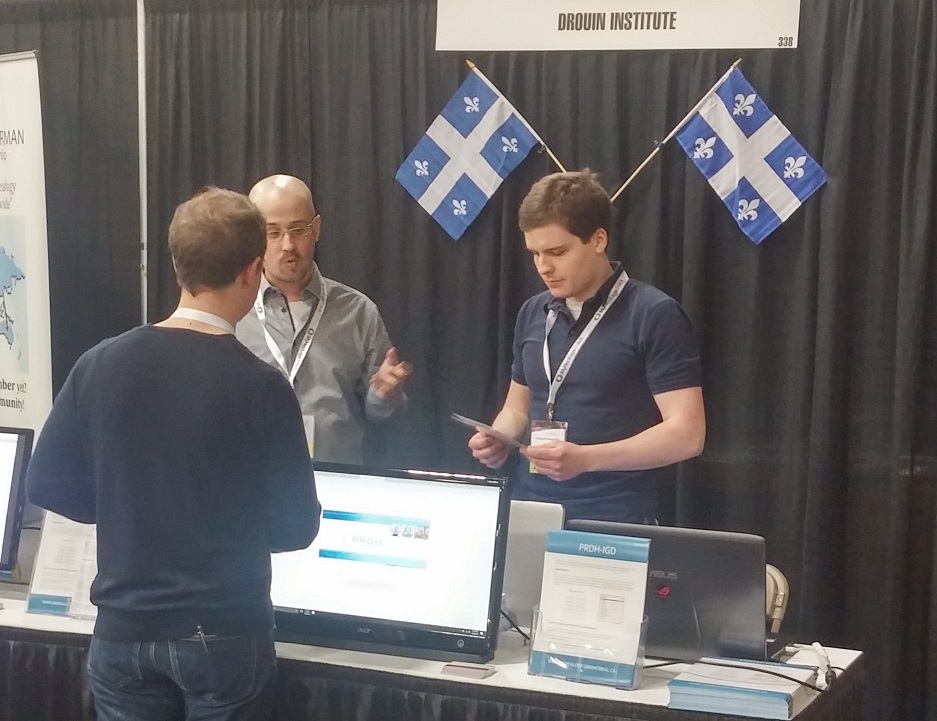 We sincerely believe that the connections made at Roots Tech this year will prove instrumental in speeding up the development of our collections, which will allow us to provide more comprehensive tools and databases to our subscribers.
Address change
Finally, please note that Drouin Institute's mailing address has changed. We are now based in Saint-Jacques-le-Mineur, Qc.
Sincerely,
The Drouin team