This post is also available in: Français
On the 22nd of September 1663 arrive the first of some 1000 King's Daughters who will eventually establish themselves in Quebec between 1663 and 1673.
Their arrival was timely considering that in 1666, the province counted 719 single males between the ages of 16 and 40, compared to only 45 single women of the same ages. This disproportion was partly due to the fact that New-France was, in its early days, a colony based on the fur trade. Thus, the majority of the population was male.
But what exactly is a King's Daughter?
"King's Daughters" is used to refer to the single women recruited to emigrate to New-France between 1663 and 1673. What distinguished these women was the fact that the King himself took them under his wing, paying for their travel and settlement in the colony as well as providing them with a dowry in expectation of their impending marriage.
Often orphans and of modest origins, and frequently raised in urban settings, these women were not adapted to the harsh living conditions present in New France.
King's Daughters list
The Programme de recherche en démographie historique has identified and indexed all of the King's Daughters who married in Quebec. The complete list can be viewed at this address.
Using PRDH-IGD to learn more about the King's Daughters
The PRDH database, accessible to the public via subscription, contains every Catholic individual who has lived in Quebec between 1621 and 1849, including of course the King's Daughters. Through the PRDH's unique database structure, it is possible to explore these women's lives in greater detail.
You will find a more detailed explanation of the structure of the PRDH's database in another article, but in short, you have to know that it contains three types of files:
Record Certificate –  It is a transcription of the relevant information contained in a baptism, marriage or burial record.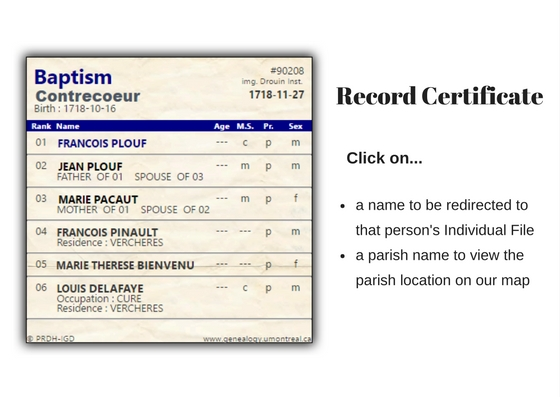 Individual File – It is a file centralizing all the information available on the individual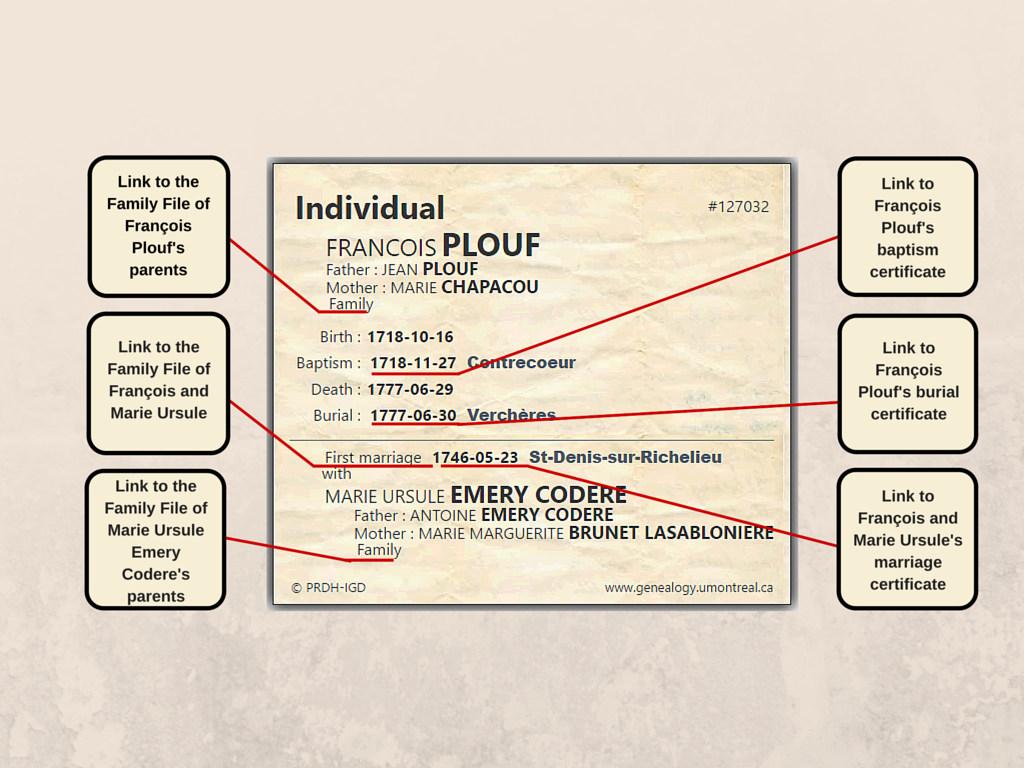 Family File – It is a file centralizing all the information and all the individuals pertaining to a family unit (parents and children)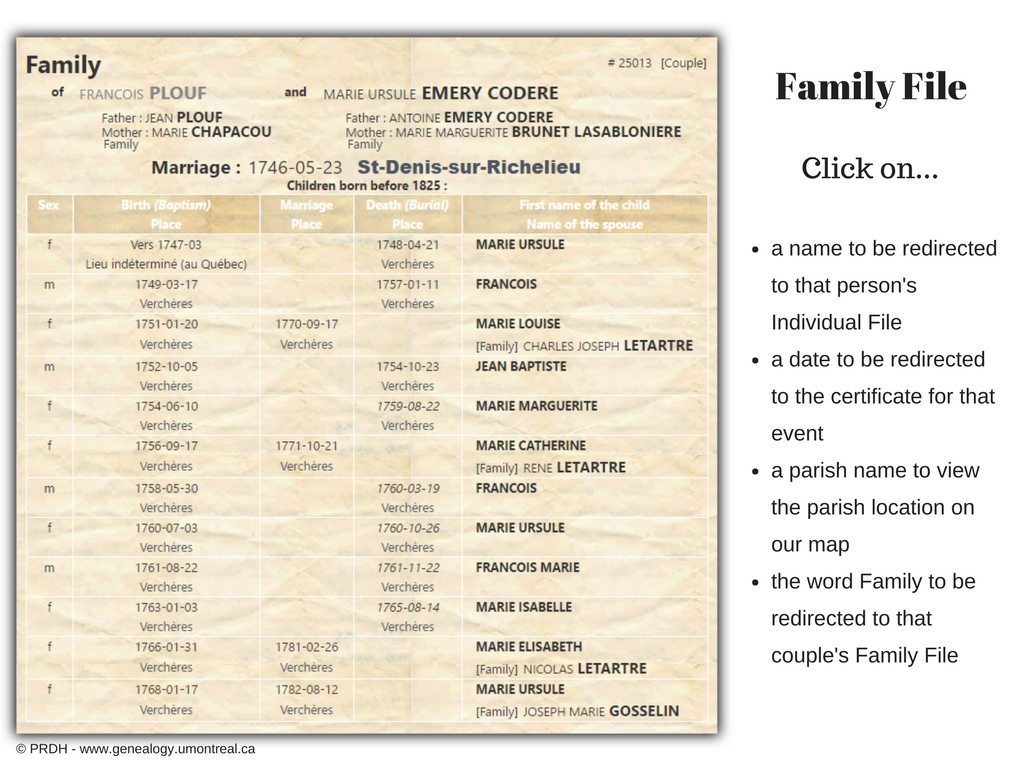 You can use this structure to your advantage in order to learn about the King's Daughters and, perhaps even more importantly, find out if you're descendent from one.
Is there a King's Daughter in your family tree?
The PRDH-IGD database can be used to confirm – or disprove – the presence of a King's daughter in one's ancestry.
Since the PRDH's data stops in 1849, it is necessary to begin by retracing an ancestor to a date prior to the year 1849.
To do so, you may want to use a genealogical research website such as GenealogyQuebec.com, which will provide you with all the tools and resources necessary to trace back your ancestry.
The process of using the PRDH to explore your ancestry and more specifically discover if you are descendant from a King's Daughter is rather simple. To demonstrate it, we will use Joseph Valade and Marie Lafond Lagrenade, married in montreal on the 20th of November 1820.
We begin with a search for Joseph Valade in the PRDH database, using the built in search engine.
This search allows us to find Joseph and Marie's marriage record.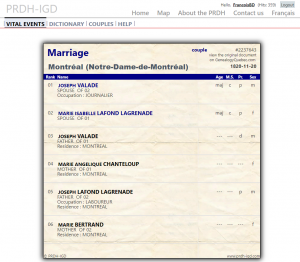 From this record, we can access to the couple's family file.
From this point, we will go up the family tree in an attempt to find a marriage in the 1660s. If such a marriage is found, chances are it will belong to a King's Daughter. To go back a generation,  click on the word "Family" which can be found under the husband's parents' names in every PRDH family file.
We finally make it to a couple married in the 1660s. Thanks to the list compiled by the PRDH, we can confirm that the bride is indeed a King's Daughter.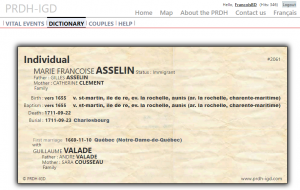 Looking at her individual file only provides further confirmation, as we learn that she originates from La Rochelle, which is a common place of origin among King's daughters.
And so, are you descendant from a King's Daughter?