This post is also available in: Français

(The first article of this series can be found here.)
My name is Claude Crégheur, and in this second article of my series on the German presence in Quebec, I will focus on Germanic migration during the New France era.
The first marriage of a German found in the registers of Notre-Dame de Québec is that of Hans Bernhardt and Marie de Bure, widow of Gilles Enart, on December 27, 1666.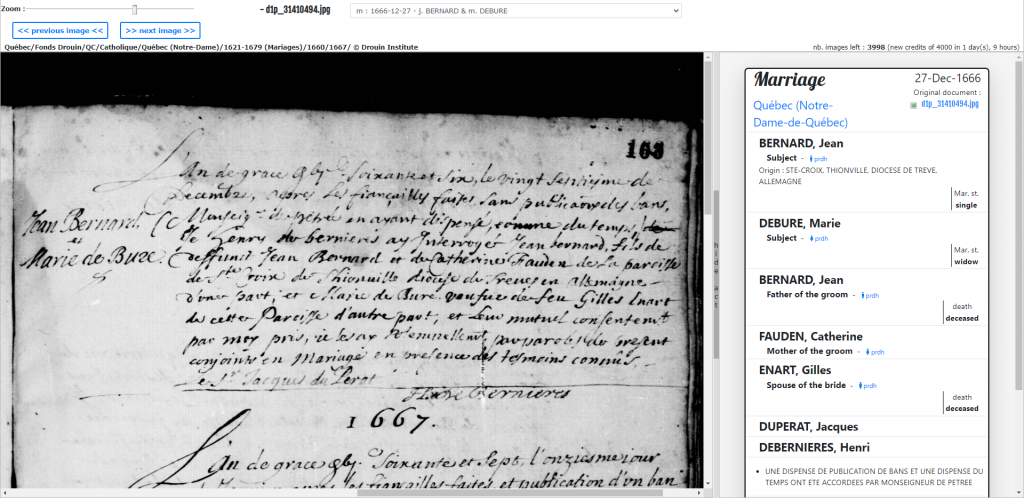 The marriage is under the name Jean Bernard, a surname which will survive him. The record indicates that he was from "the parish of Ste-Croix de Thionville, diocese of Trèves in Germany"; Thionville is in Lorraine, which is now French territory.
In 1666, the Duchy of Lorraine was also French. Indeed, France had annexed it to its territory in 1648, as well as Alsace, following the Thirty Years' War. In 1860, Berlin demanded the return of the two provinces according to the principles of nationalities defined by language. Germany got its wish through the Treaty of Frankfurt on May 10, 1871, after the French defeat in the Franco-Prussian War. This political entity then took the name of Reichsland Elsaß-Lothringen.
Among the contemporaries of Hans Bernhardt, we have Georg Stems married to Marie Perodeau on September 16, 1669 at Notre-Dame de Québec. Georg, a stonemason, was from the city of Luzern in Switzerland.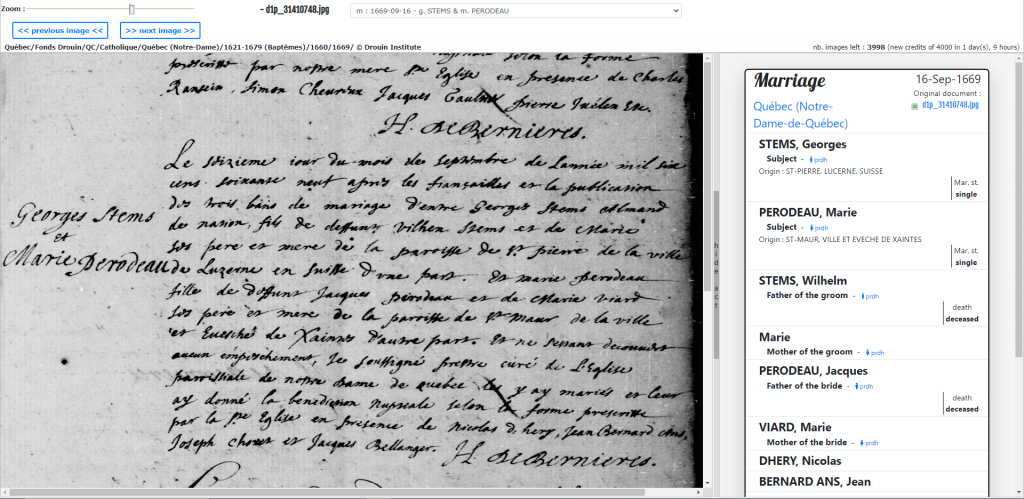 We then have Peter Mahler married to Jeanne Gueneville on November 3, 1671, also at Notre-Dame de Québec. He is said to have originated from Escalis in Germany. As this city does not exist, it was surely a bad reading or transcription of what Henri de Bernières, the celebrant, heard.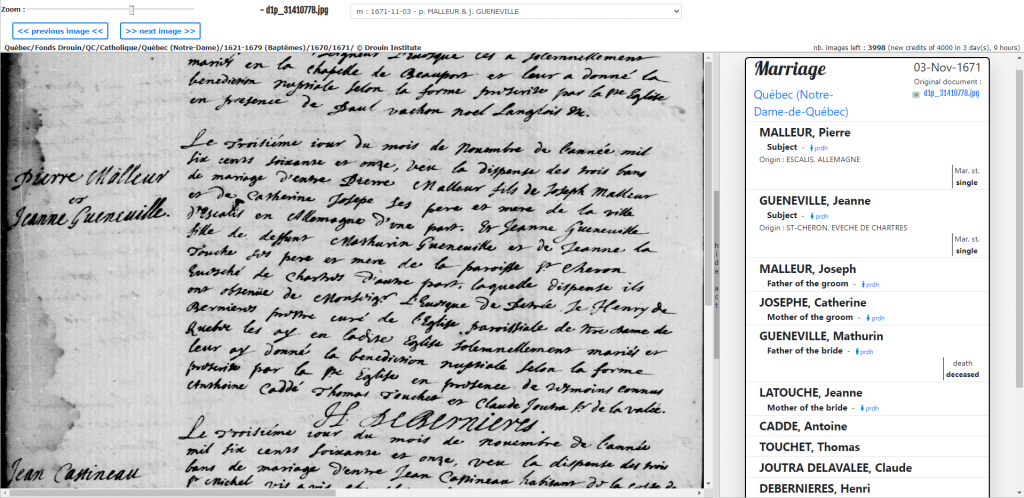 We should also mention Léonard Créquy, who signs Lenart Kreickeldt, originally from the bishopric of Cologne in Germany. He married Catherine Trefflé dit Rotot on May 22, 1680 at Notre-Dame de Québec and was a carpenter, master cabinetmaker and sculptor.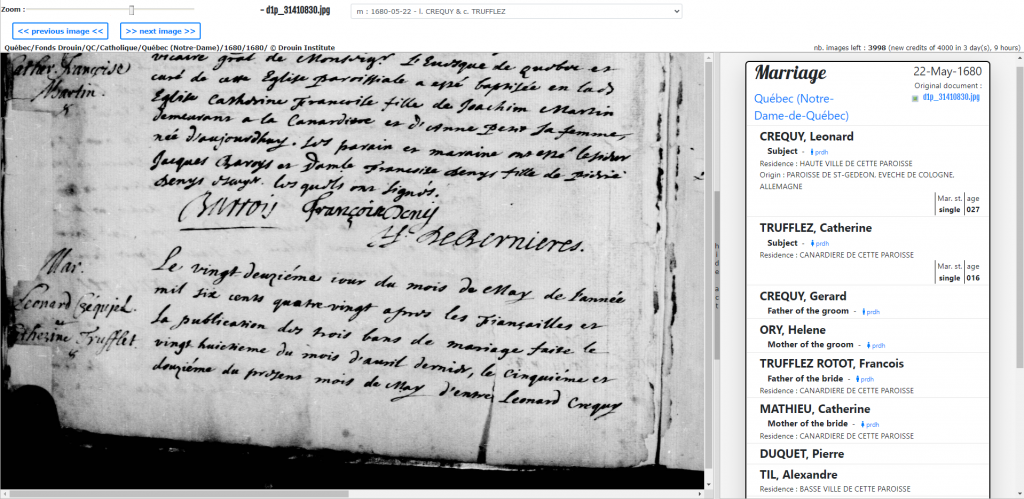 Here we have the sailor Jean D'Eyme, or rather Johann Deigme, patriarch of the Daigle dit Lallemand families. In his marriage certificate on November 5, 1685 in Charlesbourg with Marie-Anne Proteau, he is said to be from Vienna in "Lower Germany". Could it be Vienna in Austria? It is quite possible, but we cannot confirm it for the moment.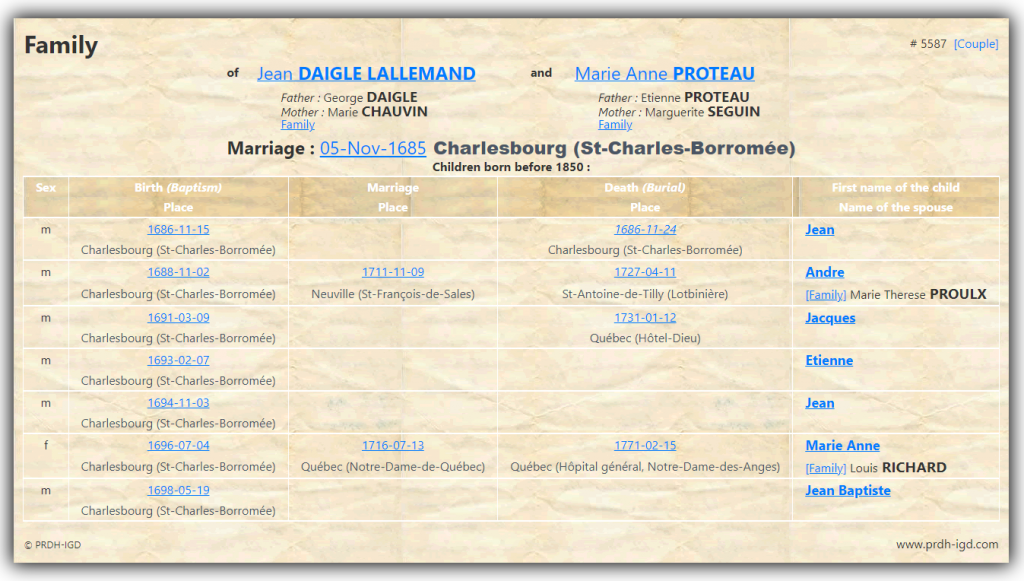 And finally, we have shoemaker André Spénard, who signs Andre Spennert, originally from Lorraine according to his marriage certificate recorded on April 5, 1690 at Notre-Dame de Québec with Marie Charlotte Thérèse Arnaud. Interestingly, Leonard Créquy, mentioned earlier in this article, is present at the wedding and signs Lennart Creigie (and not Lenart Kreickeldt as he did at his own wedding).
We also sometimes deal with more mysterious cases, such as that of the marriage of Denis Lagneau and Marie Anne de Kierk/Decker on September 15, 1718 at Notre-Dame de Québec. Marie Anne is said to be from Saxony in Germany. How did an unmarried German woman end up in Quebec? A mystery! After 1723, we lose track of the couple.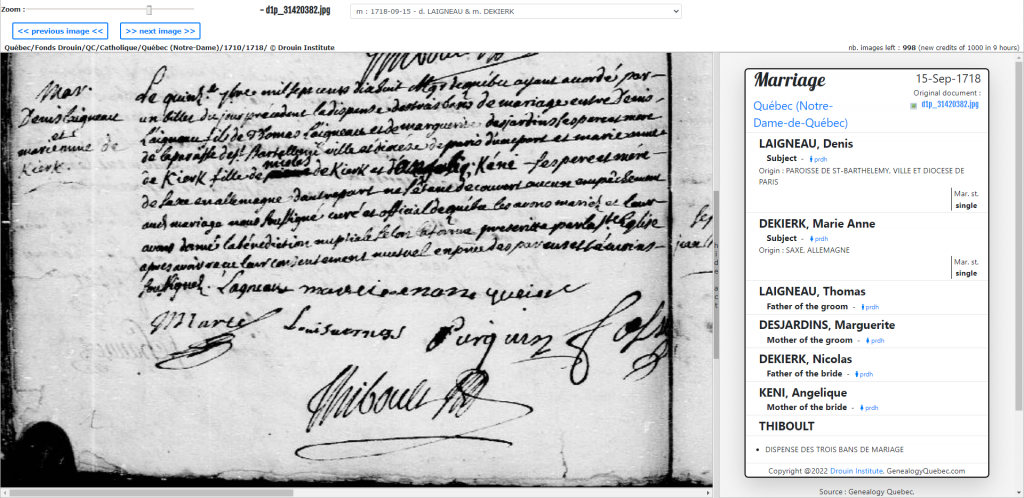 As we can see, these German immigrants were mostly tradesmen, as was the case for the first French settlers in New France. It would be very interesting to know how they got wind of this opportunity, especially considering the geographical distance separating them from the French west coast.
It is also important to mention that the Catholic religion did not seem to be an obstacle to the integration of German immigrants into Quebec society, as would be the case a century later.
Germanic surnames are likely to have irritated the ears of New France's priests and notaries who, despite their level of education, mistreated them or simply Frenchified them as in the case of Vogel in Loiseau, or Schneider in Tailleur.
In my next article, I will focus on German immigration around the Seven Years' War.
Claude Crégheur