This post is also available in: Français

An update has been applied to the Connolly File, one of the 15 tools available to Genealogy Quebec subscribers.
39,745 births, 22,209 marriages and 17,460 deaths were added through this update.
What is the Connolly File?
The Connolly File is an index of births, marriages and deaths from Quebec and parts of the United States and Canada covering a period spanning from 1621 to 2021. It is developed and maintained by the Société de généalogie des Cantons-de-l'Est.
The tool contains over 6,839,262 birth, marriage and death records.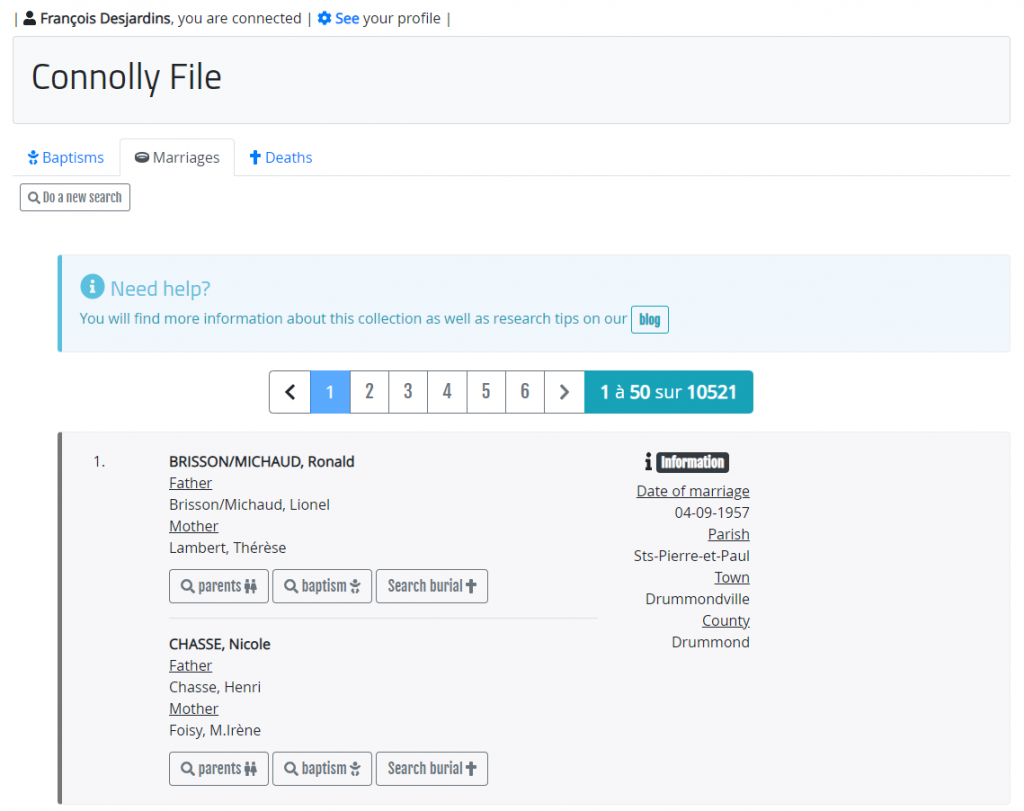 You may browse the Connolly File with a subscription to Genealogy Quebec at this address.
You will find more information about this collection as well as research tips and best practices in this article on the Drouin Institute's blog.
You can trace your ancestors with the Connolly File as well as tens of millions of other documents by subscribing to Genealogy Quebec today!

Update details
Here is a more detailed overview of the update.
Quebec
St-Jean-Baptiste de Sherbrooke
Births 1884-1940 : 9135 records
Marriages 1884-1940 : 1659 records
Deaths 1884-1940 : 4138 records
Waterville Church of England
Births 1856-1942: 1070 records
Marriages 1875-1942: 210 records
Deaths 1846-1943: 469 records
St-Eugène-de-Grantham
Births 1879-1940: 2586 records
Marriages 1881-1940: 472 records
Deaths 1880-1940: 1230 records
Quebec Civil Registration
Births 2021 : 127 records
Marriages 2021 : 6150 records
St-Ludger comté de Frontenac
Births 1897-1940: 2892 records
Marriages 1897-1940: 376 records
Deaths 1897-1940: 874 records
St-Chrysostome de Châteauguay
Births 1840-1940: 10860 records
Marriages 1841-1990: 2546 records
Deaths 1840-1940: 4265 records
Wickham, Drummond county, St-Jean-l'Évangéliste
Births 1865-1940: 3248 records
Marriages 1865-1940: 505 records
Deaths 1865-1940: 1498 records
St-Félix-de-Kingsey, Drummond county
Births 1842-1940: 5784 records
Marriages 1842-1940: 1070 records
Deaths 1842-1940: 2057 records
United States
St. Roch de Fall River MA
Marriages 1865-1982: 1667 records
Auclair Funeral Home, Fall River MA
Deaths 1894-1992: 2929 records
St. Joseph, Attleboro MA
Births 1870-1995: 4043 records
Lewiston ME, St. Patrick
Marriages 1876-1978: 2350 records
Notre Dame, Waterville ME
Marriages 1903-1980: 2161 records
Sacred Heart, Waterville ME
Marriages 1901-1980: 2571 records
Our Lady of Holy Rosary, Richmond VT
Marriages 1857-1932: 472 records
Genealogically yours,
The Drouin team