This post is also available in: Français

9,000 images referencing hundreds of thousands of baptisms, marriages and burials recorded in Montreal have been added to the BMD Cards, one of the 15 tools available to Genealogy Quebec subscribers.
The collection covers the following periods:
Non-Catholic baptisms 1760 to 1899
Catholic Marriages 1850 to 1899, A to D surnames
Civil marriages 1969 to 1975
Non-Catholic marriages 1760 to 1925
Catholic burials 1642 to 1850, A to B surnames
Non-Catholic burials 1768 to 1925
Images from this collection contain references to original records that you can also find on Genealogy Quebec in the Drouin Collection Records.
To demonstrate the process of finding an original record, we will be using John Nicholson's burial which can be found in this new collection.
The directory gives us all the information necessary to find the original document of this burial: the name of the subject as well as the year and the parish of registration of the event.
John Nicholson was buried in 1817 and his burial is recorded in the Anglican Garrison register in Montreal.
We must now head to the Drouin Collection Records and find the folder pertaining to this register for 1817. Inside it, we will find the original record.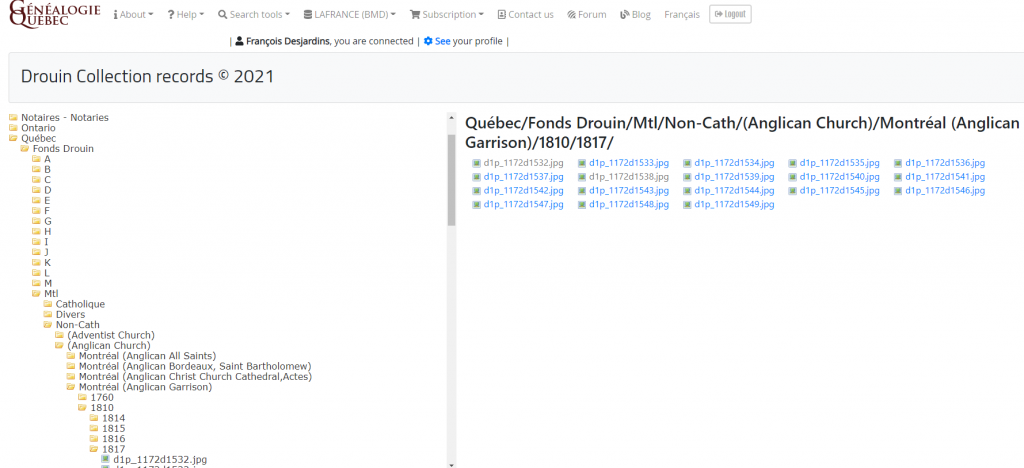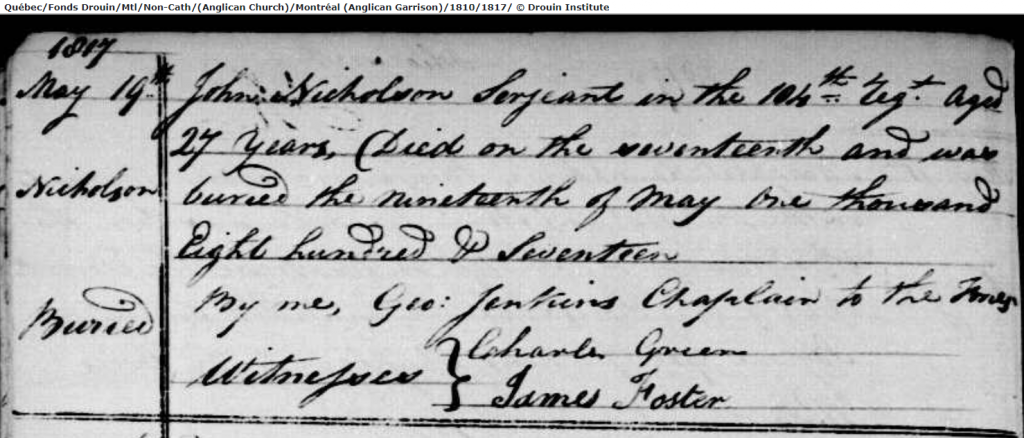 In addition to these new documents, the BMD cards contain some 2.3 million baptism, marriage and burial cards from Quebec, Ontario and the United States.
You will find more information about this collection on the Drouin Institute's blog.
You can browse the BMD cards collection as well as tens of millions of other documents of historical and genealogical interest by subscribing to Genealogy Quebec today!

New articles on the Drouin Institute's blog
Genealogy and care work by Audrey Pepin
Priests, the moral authority of New France by François Desjardins
Women in Quebec's toponymy by Audrey Pepin
Our slave-owning ancestors part 1 and part 2 by Cathie-Anne Dupuis
The omission of women in family trees by Audrey Pepin
Quebec birth, marriage and death records by François Desjardins
Genealogically yours,
The Drouin team