This post is also available in: Français
The LAFRANCE is the most comprehensive research tool available on Genealogy Quebec. This database contains all of Quebec's Catholic marriages up to 1917, as well as all of Quebec's Catholic baptism and burial records up to 1849.
In addition to these Catholic records, all of Quebec's Protestant marriages from 1760 to 1849, as well as 68 401 Catholic baptisms and burials from after the year 1862 are included in the database. A link to the original parish document is included with every record.
On the LAFRANCE, you will find these parish registers under two formats:
Original documents – a digitized image of the original parish register, as it was originally drafted.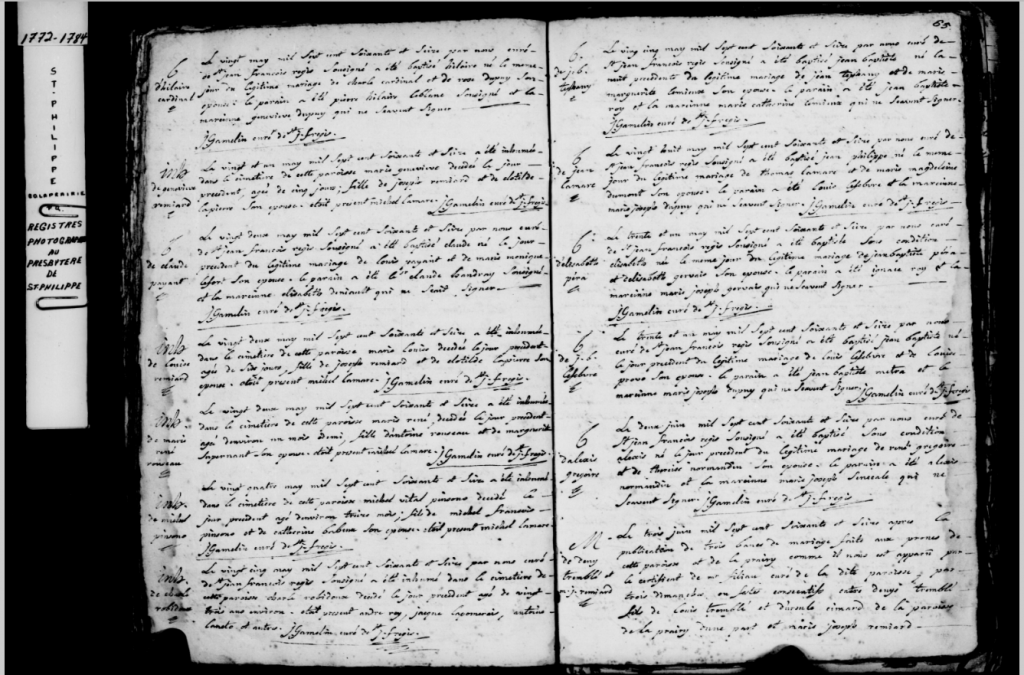 Record certificate – Every record in the database is indexed under what we refer to as a certificate. The certificate contains all the relevant information extracted from the record such as the names, dates, roles, occupations, relationships, marital status, etc.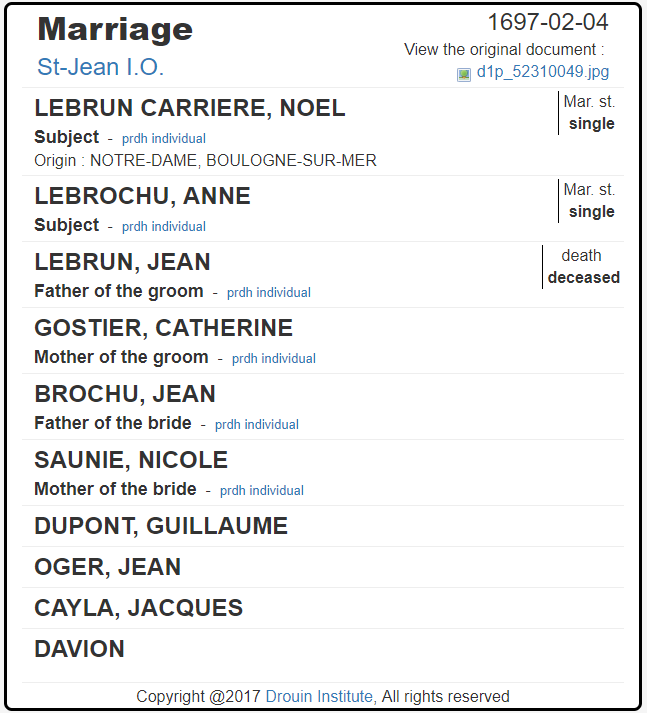 The LAFRANCE is equipped with an intuitive search engine which allows you to search by surname, first name, time period, parish, role, gender and type of event. As a general rule of thumb, we recommend that our users begin their searches by casting a wide net, only searching for a surname and first name. If this search produces too many resultats, a time period may be added to narrow it down. Making your initial search too narrow by filling too many fields isn't recommended.
Note that you may use the "%" character in order to search for part of a name. For example, a search for "Rog%" will find all of the records where an individual bearing a name that starts with "Rog" is mentioned. This allows you to widen your search even further, if necessary.
The search engine is equipped with a name dictionary, which associates a name with all of its variations. For example, a query for an individual with the surname Gauthier will prompt the search engine to look through the database for any mention of the name Gauthier as well as any of its variations, such as Gautier, Gaulthier, Gotier, etc. Thus, it isn't necessary to manually search for multiple variations of a name.
In addition, the Likeness function makes it possible to search for a name as well as any other name that resembles it. The Likeness function differs from the name dictionary because it not only includes all of the variations of a name, but also all of the names that are similar to it in terms of pronunciation or spelling. For example, a search for Gauthier, which will include all of the variations given earlier, will also include the names Gonthier, Vauthier, Gouthier, Authier as well as their numerous variations.
Once a search has been made, you will obtain a list of results.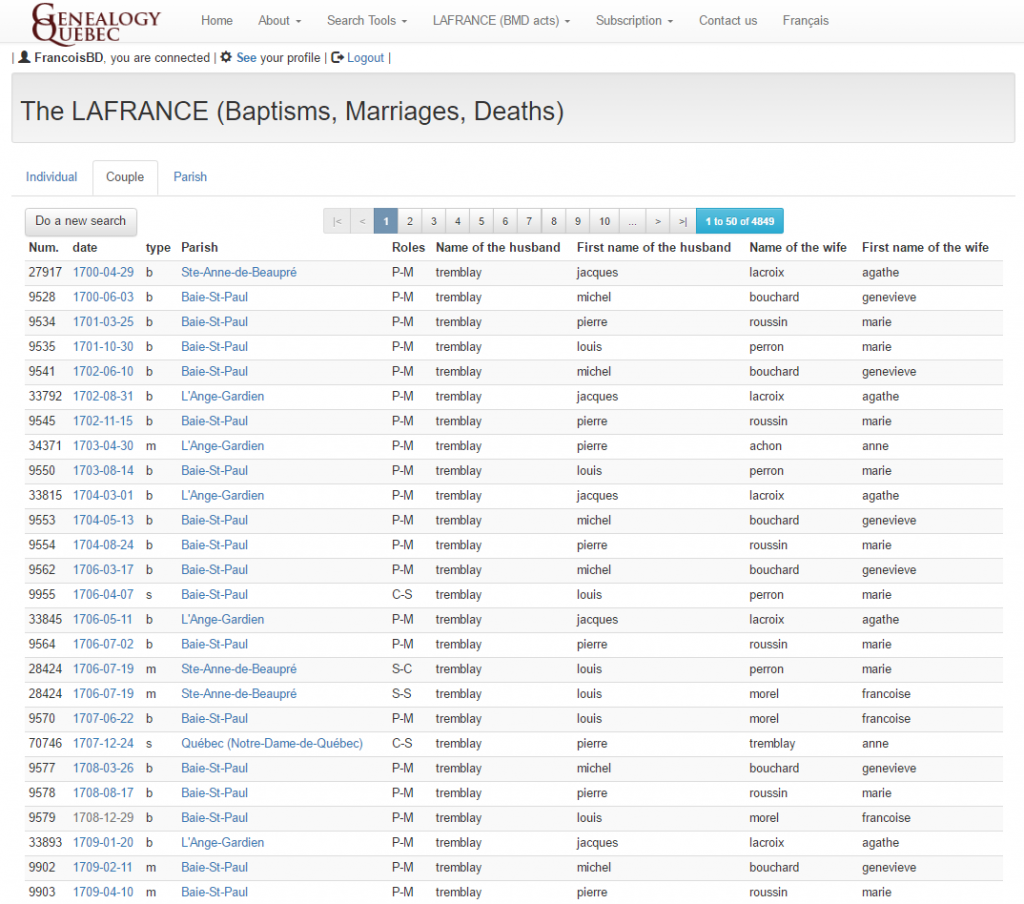 Num.: Every record in the database is given a number that is used to identify it.
Date: Date on which the record was drafted
Type: The type of event described by the record: b (baptism), s (burial) or m (marriage)
Parish: Parish in which the event was celebrated
Roles: The role that the person(s) carry in the record: P-M (Father and Mother), S-C (Subject and Spouse), S-S (Subject and Subject, used to identify a marrying couple)
To view a record, click on the date associated with it.
Once on the certificate of the record you are looking for, you maybe view the original document by clicking on the "d1p" link which you will find at the top right of the certificate.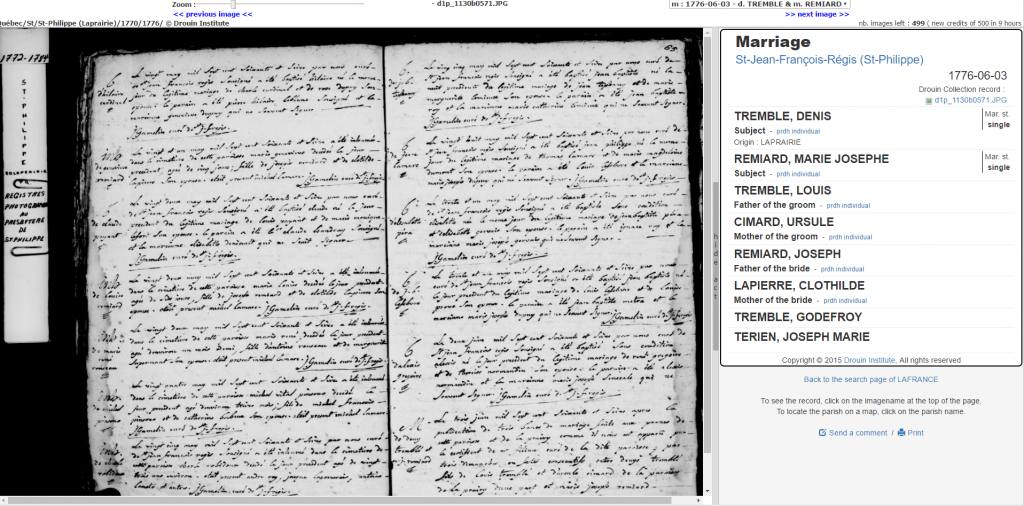 The LAFRANCE can be browsed with a subscription to Genealogy Quebec here.